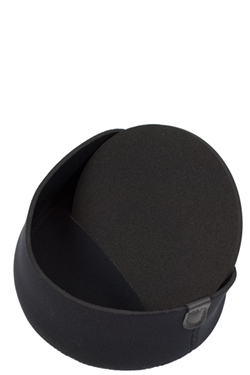 LensCoat® Hoodie® Medium - Black

[lchmbk]
Date Added: Sunday 31 July, 2016
Same great quality as the rest of the line. The perfect match with the Travel Coat.
Date Added: Saturday 15 November, 2014
I recently acquired a legacy Canon FD 400mm f/4.5 for telephoto work. Unfortunately it didn't have a lens cap. I saw an ad for these Hoodies and it was exactly whatI was looking for. It hugs the lens …
Date Added: Tuesday 20 November, 2012
I bought two of these, for my Nikkor 14-24 and 70-200 f2.8 lenses. they are an excellent solution; well made, soft, protective but tough. For the 14-24 they're essential, as the Nikon lens cap difficu…
Date Added: Sunday 17 June, 2012
I recently bought a couple of Hoodies for my Nikon 14-24 and 24-70 lenses - not only are they easy to take on an off, for me they have the added bonus of more cushioning when carrying the lenses in my…
Date Added: Thursday 11 August, 2011
I purchased two of these one for the 70-200 and one for the 24-70 lens. Both fit well and are well made.
Date Added: Monday 25 April, 2011
My experience with Lens Coat has been excellent, very prompt service and delivery has been very fast and accurate. As for the products I have fitted all my Nikkor lens I use with Lens coat hoodies.…
Displaying 1 to 6 (of 11 reviews)
Result Pages: 1 2