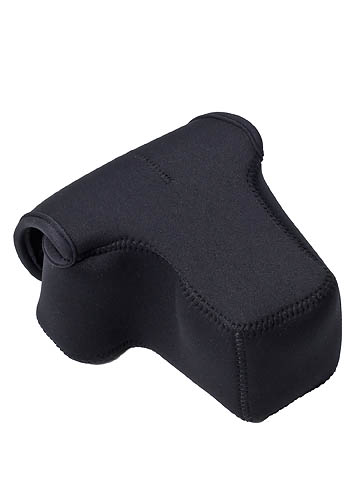 Availability: In stock
The LensCoat® BodyBag® w/lens is a camera body and lens cover made from soft shock-absorbing neoprene, protecting your camera from the nicks, dings and scratches of accidental impact. It also keeps the camera body and lens free from dust and dirt as well as protects it from the elements. The BodyBag also
features a removable front element protection disc
made from rigid plastic and firm foam to further protect your glass from damage. The BodyBag's Velcro closure makes storage and access quick and easy.
Designed to fit consumer/prosumer camera bodies with lenses attached up to 4.5" long without the optional body grip installed such as:
Canon 10D 20D 20Da 30D, 40D Digital Rebel/XT/XTi (300D/350D/400D/450D), 5D, 50D, 60D, 70D 5D Mark II, 5D Mark III, 5D Mark IV, 6D,7D
Nikon D40 D40x D50 D70 D70s D80 D90 D100 D200 D300 D500 D600 D700 D7000 D800 D800ED7000
Also fits SLR bodies approximately 6"w x4.5"h x 6"d
The BodyBag is available in Black, Forest Green, Realtree Max4 , Realtree Max5, Realtree Snow, and Digital Camo.