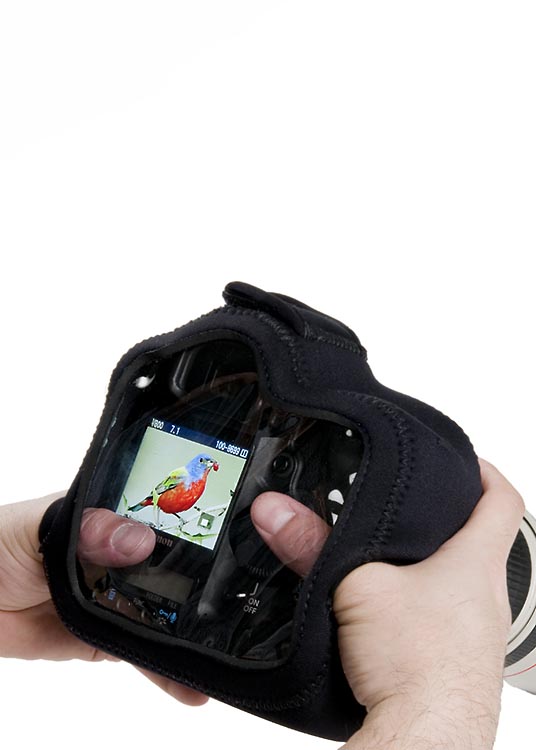 BodyGuard® Pro CB (Clear Back)

[lcbgpcb]
Availability: In stock
The LensCoat® BodyGuard® Pro CB (Clear Back) is a camera body cover made from soft shock-absorbing neoprene, protecting your camera from the nicks, dings and scratches of accidental impact
WHILE YOUR LENS IS ATTACHED
. Like the BodyGuard Pro it also keeps the camera body free from dust and dirt as well as protects it from the elements AND it
REDUCES SHUTTER NOISE.
The BodyGuard Pro CB has a clear plastic back allowing you to use the camera with the cover on. Most buttons and switches can be accessed through the thin plastic back. The BodyGuard Pro CB also has finger access slits on the side for additional access to buttons and switches. The shutter button can easily be depressed through the neoprene or by sliding you finger under the cover. The BodyGuard Pro CB goes on and off easily allowing you to change batteries and memory cards quick and easy and has access for flash and camera straps.
Designed to slide over pro camera bodies such as:
Canon 1D, 1Ds, 1D Mark II, 1D Mark IIN, 1Ds Mark II, 1D Mark III, 1Ds Mark III, 1D Mark IV, 1Dx, 1Dx Mark II
Nikon D1, D1H, D1X, D2H, D2Hx, D2Xs, D3, D3s D3x D4 D4s D5
Designed to fit prosumer bodies with the optional body grip installed:
Canon 10D 20D 20Da 30D, 40D, 50D, 60D Digital Rebel/XT/XTi (300D/350D/400D), 5D, 5D Mark II, 5D Mark III, 7D
Nikon D40 D40x D50 D70 D70s D80 D90 D100 D200 D300 D300s D700 D7000 D800 D800E
Also fits SLR bodies with extended power winders approximately 6.25"w x6.5"h x 3"d. The BodyGuard can accommodate cameras with L-brackets mounted.
The BodyGuard is available in Black, Forest Green, Realtree Max4 , Realtree Max5, Realtree Snow, and Digital Camo.