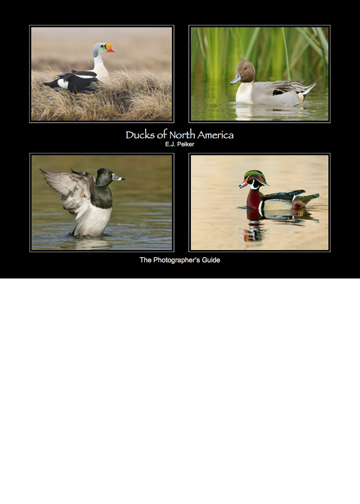 Ducks Of North America

[EJDNA]
Availability: In stock
Ducks of North America - The Photographer's Guide by E.J. Peiker is the most comprehensive book out today on duck photography:
This 133 page downloadable PDF ebook features:
Accounts of every duck found in the wild and in captivity in North America including all 37 native and 46 non-native species.
Photos of every species with male and female photos for North American natives.
Equipment guide for duck photography.
Complete guide to field techniques, exposure, composition, natural and artificial lighting, lens technique, and flight shooting.
Places in North America to photograph every species.
Multi-Formatted to look great on PC, Mac, iPad and any other device that can display PDF files.
On the iPad the Guide can be loaded into iBooks. Double tapping on any photo displays a full screen rendition of the pictures (requires iOS 4.x)
Complete listing of every waterfowl species on Earth
This ebook is the essential guide for photographers of all levels interested in finding and photographing any species of duck North America.
Photographers outside of North America will also find the Guide an essential reference. The described techniques for photographing ducks translate all over the world, and most of the 83 included species are not exclusive to North America.
Born in Germany and arriving in the USA in 1969, E.J. Peiker's previous career was in electrical engineering at the Intel Corporation. Hailing from Chandler, Arizona, E.J. is now a professional freelance photographer, having formally studied photography at the University of New Mexico and the Rocky Mountain School of Photography. E.J. specializes in artistic images of ducks and teaches bird photography through his DuckShop™ workshops. E.J.'s photographs have been published worldwide in books, advertising, magazines, billboards, murals and more. Some of his clients include The National Geographic Society, The National Parks Service, US Fish and Wildlife, the United States Navy, State Parks Arizona, and Barrons.