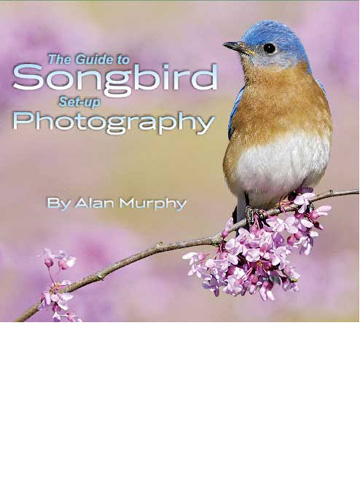 The Guide to Songbird Set-up Photography

[ampg1]
Availability: In stock
Discover the tips and tricks that Alan Murphy has been using to create exquisite images of songbirds on beautiful perches for nearly a decade.
In this e-book book you will learn how to:
Attract a variety of songbirds to your set-ups
Get birds to land exactly where you want them to!
Photograph hummingbirds in flight without a flash
Get hummingbirds to land on your perch
Create great set-ups for woodpeckers
Keep plants, leaves, and flowers alive and looking fresh
Get small songbirds to land on delicate perches
Get birds to land on cactus set-ups
Use the best type of bird feeder
Use suet with your set-ups
Work with fruit and berries
Build and work with water-drip ponds
Choose perches including the do's and don'ts.
Place, position, and secure perches at your set-up
Get ground birds on your stump set-ups
Turn nest boxes into natural looking tree cavities
Create set-ups for birds that frequent open fields and grasslands.
Attract elusive kingfishers to your set-up
Get low and in the water to create intimate images while remaining safe and dry
Set up for and create images of songbirds in flight
This e-book is lavishly illustrated not only with Alan's killer images but with dozens and dozens of step-by-step photos that will show you exactly how to create your own successful set-ups. Alan's writing is clear and concise and his directions are easy-to-follow and inclusive.
Even if you have only a small backyard, a patio or a balcony, Alan can help you to create stunning avian images on a consistent basis.
This e-book is a 106 page downloadable pdf.
Alan Murphy has been photographing songbirds for over 20 years, and has developed a distinctive style with perches that has gained him worldwide acclaim.
Alan's numerous photo credits include National Geographic, Birding, Birders World, WildBird, Bird Watcher's Digest, North American Birds, Texas Birds, Texas Parks & Wildlife, Texas Highways, British Birds, Outdoor Alabama and more.
His photos are also published in various field guides, books, calendars, and postcards. Alan is both a Nikon Professional Services Member, and hosts several workshops yearly.