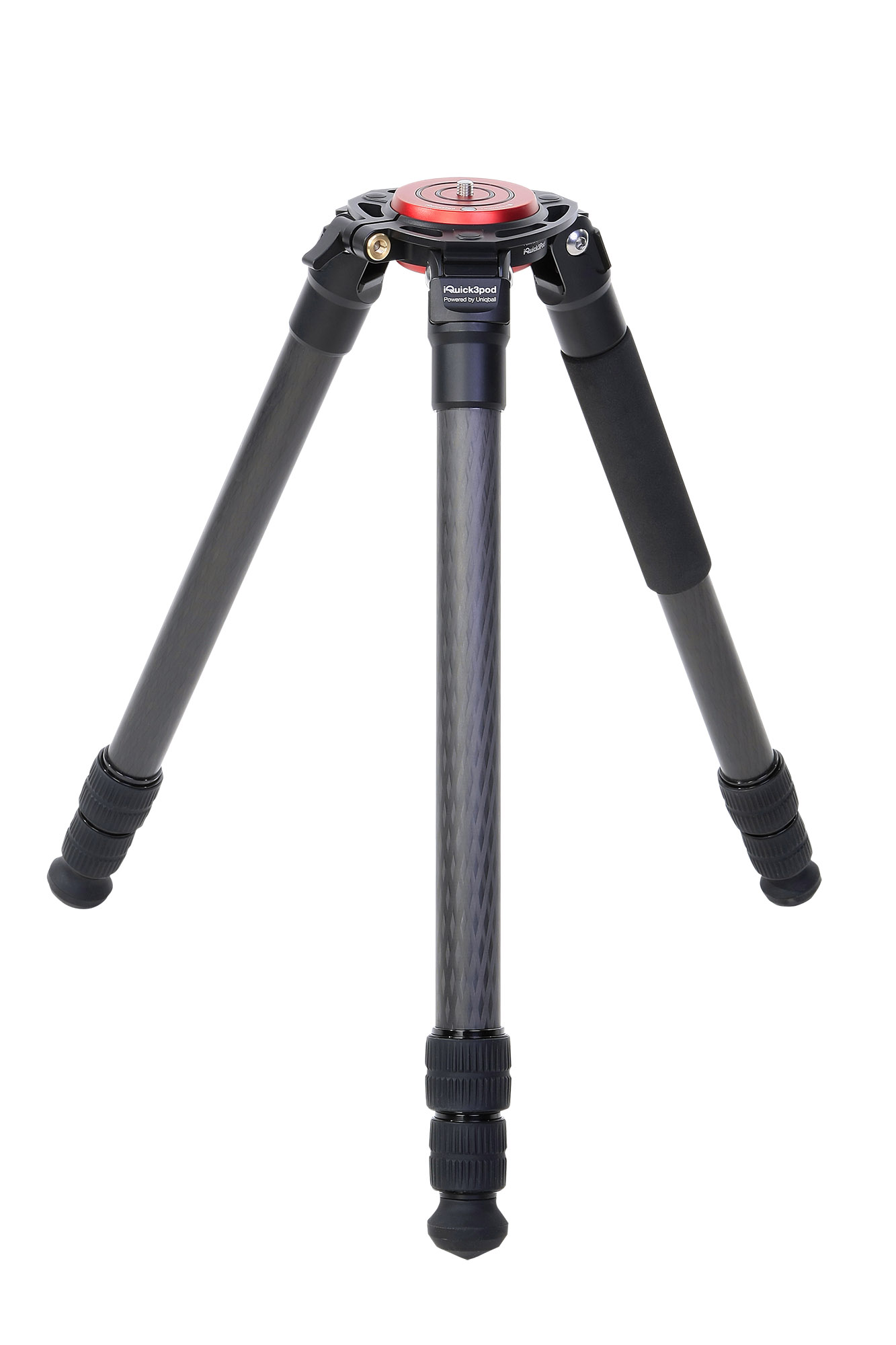 IQuick3Pod 36.3 Carbon Fiber Tripod

[IQ3P36.3]
Availability: In stock
IQ3P is a powerful 4 or 3-piece, professional carbon fiber tripod that supports long-range lenses and heavy cameras. IQuick3Pod 40.4 / 36.3 / 36.4 models will be the new standard for Outdoor tripods, because of their stability with low weight and versatility. The spider part opens and closes, so each stand has an integrated leveling base that replaces the traditional flat tops (topPlate), but it can be used with all other series 5 systematic or other brands of accessories.

The iQ3P 40.4 weighs 2.60kg and provides outstanding 45kg load capacity. It reaches as low as 9.5 cm and up to 152 cm and folds down to 57.5 cm. Extremely reliable, versatile, portable solution, this model features 10 layer carbon tubes with a compact, rubberized bolt that securely connects the leg sections. Leg segments can be disassembled. The spider surface has 3 pcs of 3/8 "connection points, suitable for attaching external accessories.
The 40mm upper tube diameter guarantees the required stability and stiffness. Great choice for the heaviest professional devices and the largest telephoto lenses!
| | | | |
| --- | --- | --- | --- |
| | IQ3P 40.4 | IQ3P 36.4 | IQ3P 36.3 |
| Weight | 2,6 kg | 2,3 kg | 2,2 |
| Material | carbon fiber | carbon fiber | carbon fiber |
| Load capacity | 45 kg | 35 kg | 35 kg |
| Legs Tube diameter | 40 mm/ 36 mm/ 32 mm/ 28 mm | 36 mm/ 32 mm/ 28 mm / 25 mm | 36 mm/ 32 mm/ 28 mm |
| Leg sections | 4 | 4 | 3 |
| Top attachement | 3/8 " screw | 3/8 " screw | 3/8 " screw |
| Min height | 9,5 cm | 9 cm | 9 cm |
| Max heigh | 152 cm | 142 cm | 122 cm |
| Closed length | 57,5 cm | 55 cm | 56,5 cm |
| Upper disc diameter | 80 mm | 80 mm | 80 mm |
| Bubble spirit level | yes | yes | yes |
| Carrying bag included | in the promotional period | in the promotional period | in the promotional period |
| shoulder strap included | in the promotional period | in the promotional period | in the promotional period |
| metal spikes included | in the promotional period | in the promotional period | in the promotional period |
| Color | black-red | black-red | black-red |
| Easy link | yes – 3 pcs | yes – 3 pcs | yes – 3 pcs |