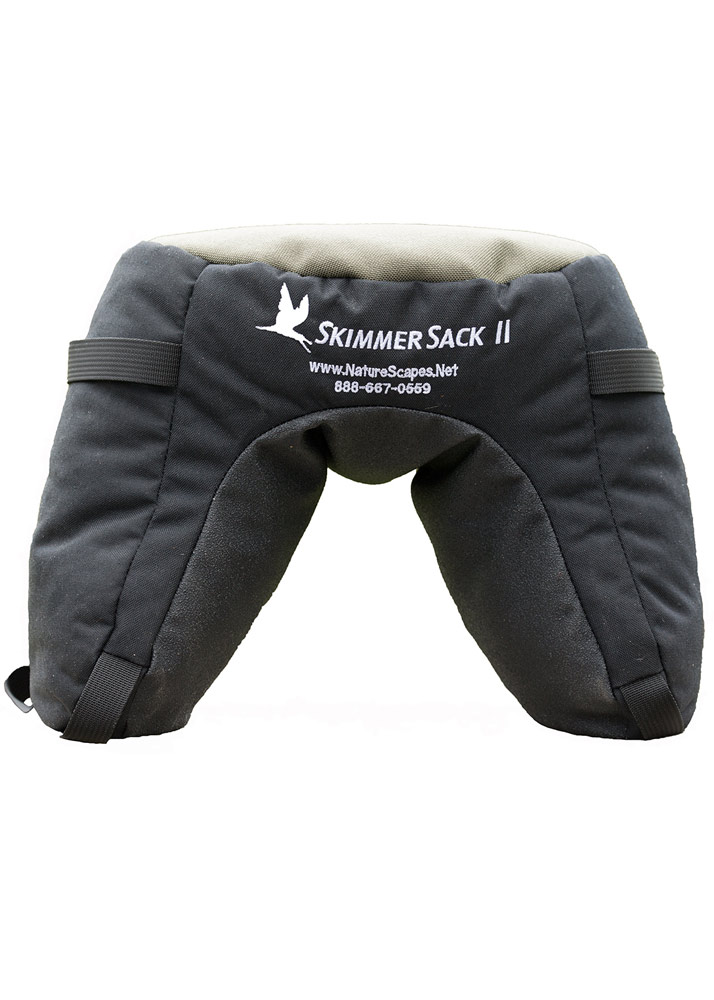 NatureScapes.Net SkimmerSack II

[852662476903]
Availability: In stock
NatureScapes' popular innovation - The original SkimmerSack II Beanbag has been improved with better construction and a reinforced top section!
The SkimmerSack II transforms into many different configurations for endless shooting possibilities with or without the use of the Skimmer II Ground Pod. Read about the key features and see the detailed images for suggested uses.
Construction and Key Features:
The SkimmerSack II is the most durable and the most flexible beanbag on the market.
Here is why:
• Unique transformable design - a multitude of uses and configurations. See images for suggested uses.
• First ever "U" shaped bag with unique round-top design for use alone, or matched perfectly with the Skimmer Ground Pod II placed on top.
• For use with any lens and camera combination from wide angle up to a 600/4 or 800/5.6.
• Continuous non-skid Toughtek fabric inside of the legs for non slip grip on car doors.
• When used with the Skimmer Ground Pod II you can use with any ballhead, Gimbal head or simply install quick release for the lowest profile option. Riser blocks may also be used to fine tune your shooting height. Vehicle images shown are of the original SkimmerSack on a Toyota Highlander which is short as SUVs go. To see the many uses and configurations for the SkimmerSack II, click on detailed images above. For additional features and Greg's tips, see the Specifications tab below.

Specifications:
• Filled Dimensions: 26 tall X 17 X 20 cm (10.25 tall X 6.7 X 8 inches)
• Empty Weight: 139 g (4.9 oz.)
• Poly filled weight (Includes sack weight): 5.2 kg (11 lbs. 8 oz.)
• Buckwheat hulls filled weight (Includes sack weight): 1.3 kg (2 lbs. 13 oz.)

Additional Key Features:
• Highly contoured design allows less fill than other bags; weighs only 8 pounds when full using whole sunflower seeds
• Large zippered opening with protective flap for easy secure filling
• All seams are double stitched for extra strength; stress areas stitched at least 5 times*
• Buckle straps at each end of the "legs" for tying the bag down to door handles or safari roof rack.
• Sewn in handles on each side which may be used for tie downs or to secure the Skimmer using a 3" climber's clip attached to the Skimmer's carrying tab.
*The SkimmerSack II is more durable than any other "molar" style beanbag that we know of - all of which are made either of cheaper nylon "pack cloth" or canvas materials and none of which are double stitched like the SkimmerSack II.

Fabrics:
• Durable 500 denier DuPont Cordura(r) nylon (waterproof urethane coated)
• Non-skid Toughtek fabric for the interior
• US-Made Fabrics

Hardware:
• Self-healing #5 zipper
• NEW buckle closures

Fabrication:
• U.S. Made
• All seams double stitched with nylon thread for added strength
• Stress areas stitched at least 5 times
Care:
Lint and dust can be removed with a lightweight brush. Hand wash in lukewarm water with a mild soap. Drip dry. Use a moist rag with soap and spot clean. Unless you are using synthetic fill, we recommend storing the bag empty in order to prevent mold and fungus from forming inside.
Warranty
NatureScapes warrants its products against defects in materials and workmanship for two years. This warranty does not cover damage caused by negligence or improper use, nor does it cover the breakdown of material which inevitable occurs with extended use, including zipper & hook & loop wear. Our liability is limited to replacement of original gear – compensation for damaged equipment is not implied. Ship prepaid and insured to us with a copy of the sales receipt. If item is found to be defective, we will repair or replace at our option.
Here are some basic fill guidelines:
• See included instruction sheet for suggested fill - we use
sunflower seeds and feed them to the birds when we are finished with them. With 70-90% fill you can place over a car door and shoot with a lens alone or with the use of a Skimmer II Ground Pod on top. It can also be used upside down. 9 liters of fill by volume needed.
• With 40% fill the "legs" can be folded under making a flatter "pancake" style beanbag for use with smaller lenses or for a lower profile. With 70-80% fill the "legs" can be spread out and placed on top of a car or in between the rails of a safari vehicle - leaving the round surface available for cradling your lens or placing the Skimmer II on top.
• We recommend about 80% fill when using with a Skimmer from the car - more for a tighter firmer top and less for a lower profile. Less fill allows the Skimmer II to be cradled by the excess material on the top surface and allows a lower shooting profile. By adjusting the amount of fill the SkimmerSack can be transformed for a variety of uses, with or without the Skimmer II Ground Pod. See the detailed images for just a few of the suggested configurations. The possibilities are endless!

Greg's tips for using the NatureScapes SkimmerSack II: "I personally developed the SkimmerSack II for use with the Skimmer II when shooting out of the car with a big lens and I have found it to be the best solution by far. Gone are the days of a permanently mounted window mount or overly large bulky beanbags that cradle the lens too much and restrict your movement." -Greg Downing
TIP #1
Use the Skimmer II with it! Attach a quick release clamp to the Skimmer II this allows the Skimmer II to become a giant low-profile foot for your lens. Since the Skimmer II is round and perfectly fit to the top of the SkimmerSack II it allows photographers complete freedom to pan side to side and lean up and down for unrestricted movement. Installing a ballhead or Gimbal head on the Skimmer II works also but often put the rig too high for shooting out of a car. TIP #2
When filling the SkimmerSack II don't fill it too tightly - leaving a little room allows it to "hug" the Skimmer II which essentially operates like a giant ballhead. TIP #3
For a lighter fill try buckwheat hulls or poly beads, such as those found in beanbag chairs. Some even travel with the SkimmerSack II used this way. TIP #4
My favorite fill is whole sunflower seeds - they are lighter than beans or rice and birds love them so you can just dump them on the ground when you're finished. TIP #5
The easiest way I have found to fill the SkimmerSack II is to use one of those plastic bird feeder fillers - which is essentially a large funnel. A small can or drinking cup works as well.