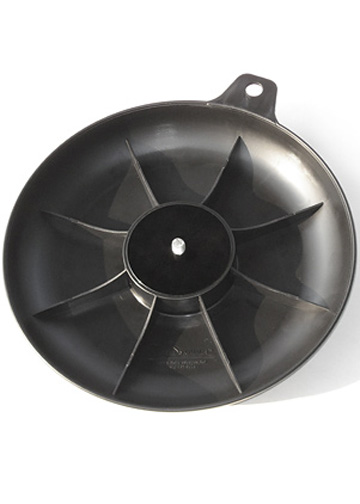 Skimmer Ground Pod II

[nsnskmrII]
Availability: In stock
The Skimmer is the ultimate support for ground-level bird and wildlife photography and is now redesigned!
Made with super heavy duty reinforced crush-proof injection molded plastic it is rugged yet lightweight, weighing less than 15oz." With a unique circular design, it allows you to slide camera equipment in any direction on the ground, even through mud, sand, and grass. And your equipment stays clean and dry, even in up to an inch and a half of water!
The Skimmer is a also fantastic option for shooting with long lenses from a vehicle: place the Skimmer (with optional C-10 or your tripod head) on your beanbag and enjoy panning, tilting and overall ease of motion and increased stability over a beanbag alone. Try it!
Approximately 10" in diameter and 1.5" high, the Skimmer's flat bottom allows it to slide and pan easily along the beach or mud without scooping up earth, protecting equipment from grit and moisture. The sides are turned out slightly to push sand and mud out and away, helping to keep debris from coming over the top. A protected area inside the plate can even be used to store teleconverters, extension tubes, and other incidentals for quick access while shooting.
The Skimmer was designed by photographers for photographers to meet our rigorous demands in the field. After years of using various ground supports, we felt the shortcomings were keeping us from our best productivity in the field. Sharp edges on plates would often get caught in the ground and swivel, halting movement, or scoop up sand and dirt - exposing ballheads and other equipment to grit and water and weighing down the plate with accumulating muck. We were constantly replacing lost bolts from plates that didn't have captive screws. Also, as frequent travelers, we are always looking for weight-conservative options - the Skimmer is less than half the weight of some ground pod options. The Skimmer is our field-tested solution!
The Skimmer was designed to be used with any lens or camera combination up to 600mm and its wide mounting surface can accommodate virtually any ballhead or gimbal-style head fitting a standard 3/8" tripod mount. It has been matched for use with low-profile lens feet when used with the C-10, as well as for the Wimberley Head II, without the need for modification or additional risers. However, an optional riser block fits perfectly and can be stacked when additional height is needed.
A 3/8" stainless steel "captive" bolt is provided to attach your tripod head. Alternately, the Skimmer can be purchased with the Wimberley C-10 quick release plate, allowing you to mount dovetail lens or camera plates. Other quick release clamps may also fit.
KEY FEATURES
* Constructed with super heavy duty reinforced crush-proof injection molded plastic
* Roughly 10" diameter, 1.5" tall
* Weighs under 15oz.
* Heat and cold tolerant for use in any conditions
* Integrated raised mounting platform for stability
* Compatible with the Wimberley Head II and low profile lens feet without additional hardware needed
* Standard 3/8 - 16 captive stainless steel bolt, countersunk flush to underside - no more lost bolts
* Hex wrench included
* Optional Wimberley C-10 quick release clamp with locking screw set screw - no ballhead needed
* Reinforced lanyard attachment point for user-supplied clip or lanyard to hang from a belt, attach to a backpack, or for a safety line when shooting out of the car on a beanbag
* Perfect for ground level shooting or off of a beanbag with telephoto lenses
INCLUDED
* Hex wrench